NAKED EWE BOUTIQUE---NEW! 260 N CHERRY STREET, MONTICELLO, FL 32344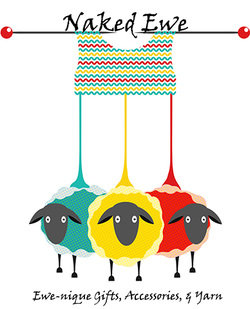 We're the newest gift shoppe in town with "ewe-nique" gifts for everyone on your holiday shopping list! Most items are made from fiber. Everything is handmade. We have knitted, crocheted, sewn, punch needle, crewel, cross stitch, macrame, woven and quilted items. We feature work from local fiber artists. We have sweaters, shawls, cowls, finger-less gloves, hats, scarves, socks, baby sweaters, booties, quilts, afghans, jewelry, The Old Fashioned Knitting Board, books, patterns, and of course oodles and oodles of luscious yarns to add to your stash. Our prices are great! We have luxury yarns and yarns to fit the budget conscious. We have wool, cotton, bamboo, corn, silk, linen, and acrylic and blends. Some yarns are local; some handspun; some hand-dyed. We also have cross stitch kits, crochet and knitting supplies. Classes will be forming soon in knitting, crochet and knitting boards. We're easy to find! We are located in historic, downtown Monticello, right next to MadCo Dance Studio in the Old Library! Happy Holidays! Gift certificates available!
---
Gift Certificates Available! Good toward any item in Naked Ewe Boutique!